Description
1 x Hydra 2500 Light
1 x Battery
1 x Charger
1 x YS Mount
1 x Ball Mount
1 x Lanyard
1 x Padded carry case
Top Product Features:
Innovative new light, designed especially for macro photographers, allowing a variety of creative lighting options, including flood, red, blue and pink lights. Use these as artistic backgrounds or side lighting.
Two push buttons allows easy switching between the various modes.
The light head is water resistant! So even in the rare case of a flood, your main investment is fully protected.
Strobe function allows a burst of 4000 lumens which can be synced via fiber optic cables from your camera flash.
Multi-cell battery packs allows use of quality fast chargers. Recharge time is about 2 hours from completely drained.
Main Specs:
Model Name: Hydra 2500 WRU Macro
Lumens: 2500 Flood / 4000 Burst
Mount: YS / Ball Mount
Beam Angle: 100 Deg
Battery Type: Lithium Battery / 4 Flood Levels, Red, Blue, Pink
Max Burn Time: ~55 minutes @ 100%
Red Light: Yes
Lumen Range: 2000-3000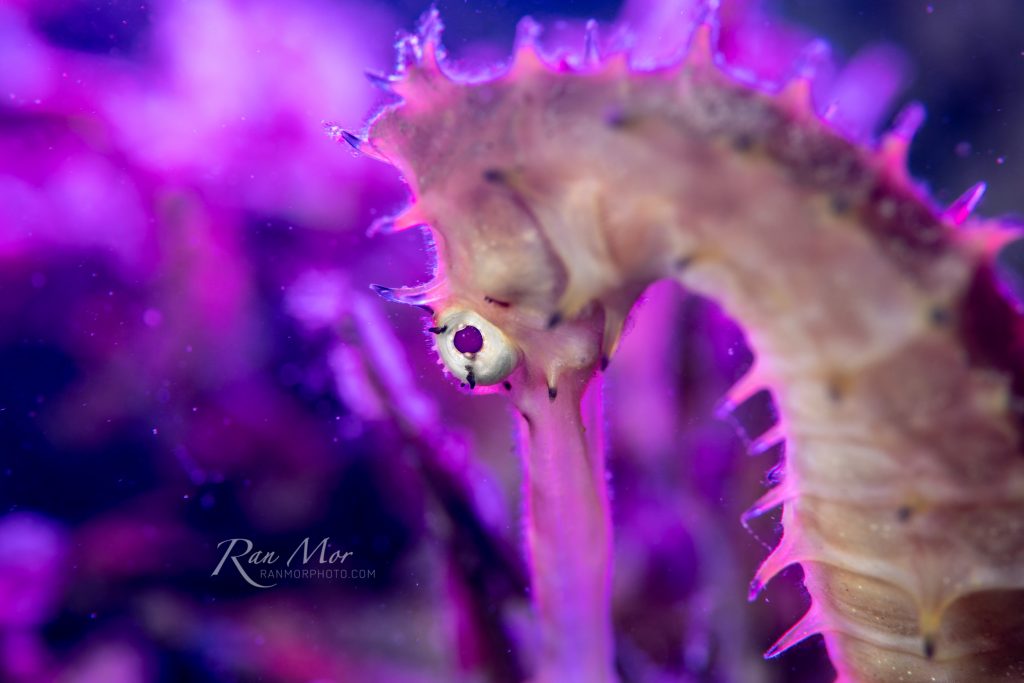 Lumens: 2500 flood 4000 burst mode
CRI: 80 @ 5500K
Beam Angle: 100 Degrees Underwater
Burn Time: 55 minutes @ 100% flood
Switch: Dual push button on/off intensity adjustment with battery level indicator
Modes: Flood\Red\Blue\Pink (Each mode also available in Burst)
Depth Rating: 330ft/100m
Weight: 490g on land 240g underwater (including battery)
Dimensions: 55.2x137mm (2.17"x5.39")
Charge Time: 2 hours from zero
This light has flood, red, and blue beams. You can also combine the red, and the blue beams for a sort of pinkish purple. This can be used for artistic back, or side lighting. It also is remote control ready, all you have to do is purchase the Kraken remote and you can control up to two lights without having to remove your hand from your tray!
There is two reason we call this light the "macro edition". The first being you can sync it to your camera via fiber optic cable. When you do this you have have the light fire in a burst mode. So instead of the constant 2500 lumens, it will burst to 4000 lumens. When shooting macro mode this is enough light to get the shot of your critter with the light instead of using a strobe. The other reason is there is an optional condensing lens you can screw on to the light to condense the beam way down to around 20 degrees.
We have also made the head water resistant. If you have an accident and flood the light, the head will remain OK. You'll probably have to replace the battery but that is much less expensive than replacing the light. This gives you the benefit of being able to easily switch batteries between dives, but also not having to worry about a flood!
Specifications
| | |
| --- | --- |
| Stock | 2 |
| Lead Time | 6 |
| Territory | WORLDWIDE |
| Popularity | 999 |
| Warranty Note | 1 Year by Kraken |
Warranty & Returns
Manufacturer Warranty: 1 Year by Kraken
Warranty Terms
Mozaik is an authorized dealer of each and every brand offered for sale. All products are sold with a manufacturer's warranty. The terms, limitations and period of the warranty are solely determined by the manufacturer and are marked on the product page and/or on the manufacturer's web site.
Implementing the warranty can be done either through us or directly with the manufacturer. We are always here to help with any issue that may arise and will be happy to take care of any repairs or check-ups for you. Read more..
Return Policy
If for any reason you are not satisfied with a product you purchased you can request to return it within 60 days of the original delivery date, subject to the following conditions Read more..
Taxes and Cross-Border
Canadian Customers
All orders shipping to Canada will be charged local sales tax according to the province ( GST / PST / HST).
Mozaik is responsible and will pay all import fees (including duty and brokerage fees). Our broker will take care of any such fees before the product reaches your door.
Any accidental charges will be reimbursed.
US Customers
Orders shipping to the USA will ship through our US logistics center in Blaine, WA thus free of any border fees.
International Customers
We do not charge taxes, yet, you may be subject to local sales tax and customs duties in your country.